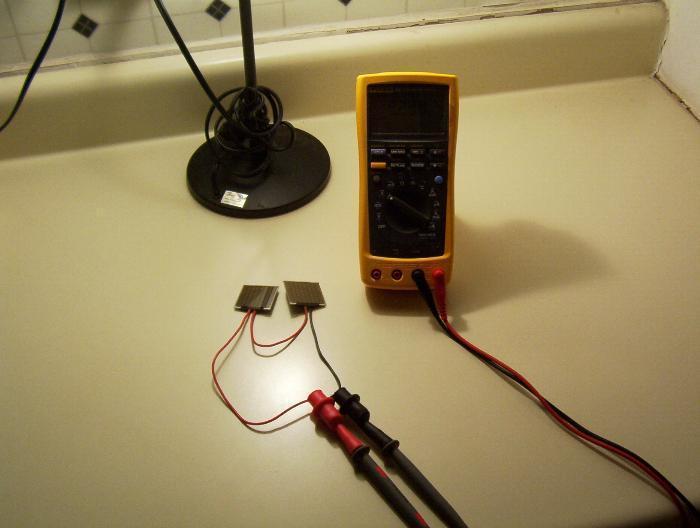 I've been learning more about solar cell testing over the past year. I have a couple of test systems I'm developing, I've taken data, and it's been interesting. It's also been frustrating.
As an example let's consider I-V sweeping, the bread and butter of semiconductor testing. Most of the basic values of a solar cell can be determined from a quick IV check. One of those values, the
short circuit current
(
I
sc
), helps determine the maximum power a cell could theoretically produce. A high
I
sc
is nice to have.
When I first looked at measuring IVs for solar cells last year, I tried to re-purpose my National Instruments PXI chassis to this task. I knew that the source measure unit (SMU) in the chassis (

PXI-4130

) could only go up to about 1A, but there was an auxiliary supply that could plug right in to the SMU: the

PXI-4130 Power SMU. On the NI page for the aux the output specs are listed at

"
12 VDC, up to 5 A, up to 60 W, 0 to 55 °C
" (note the "5A" limit). So I bought the aux supply and got started testing.
But as I tested larger and better cells, with more total current output, I ran into limitations with the NI approach. I couldn't measure an
I
sc
above 2 amps. This confused me somewhat, since I had
seen
the the five amp limit on the NI page. Adding insult to injury, I didn't even need the SMU to output that current - the
solar cell
was generating the current.
I then considered connecting multiple SMUs. There is a "knowledge base"
article on the NI website
that supposedly answers the question, "
What is the Maximum Voltage and Current that the NI DC Power Supplies can Source when Cascading Outputs?
" But
nowhere
on that page does it list a maximum current. I even found a
Photovoltaic Solar Cell I-V Characterization Bundle
page that says you can "add more SMUs to get three times the voltage or current." I struggled with this problem for a month.
Well, I
finally
got an answer from NI last week. The SMU
cannot
measure above 2A current because the PXI chassis has to dissipate the power, regardless of where the current source is. The chassis has "a hard limit on the amount of power consumed by each of the SMUs." In other words,
National Instruments
has some cleaning to do on their website.
------------------------
So what's the moral of this rant? First, I'm going to get a different power supply (maybe Agilent). Second, you cannot always trust the hardware verbage you read online.